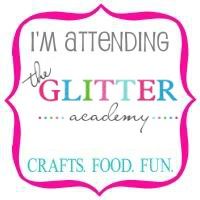 Tonight I went to the Glitter Academy. It was so much fun! The food was good, the craft was frustrating (more on that later), and the company was great! I spent time with good friends, got to know
other friends
even better, and met some great
new people
. Sorry for the crappy cell phone pictures.
GNO
The Dessert Table, isn't it great?
The Glitter Academy was at Macayo's in Tempe. They did a good job hosting so many women. There were giveaways and contests and swag. Glittery swag, obviously. And a craft.
The craft was to decorate our swag bags with Cricut's glitter iron on vinyl. It's a great concept, but the cutting machine did not cut all the way through the pink glitter iron on vinyl. It seemed to work just fine on the silver glitter iron on vinyl. It was very frustrating so I didn't even finish. My bag is still plain black. I would use the glitter iron on vinyl if my design was simple and I could use a pair of scissors. Clearly there is still work to be done in the product development department on glitter iron on vinyl.
Even though the craft was a bust, it was a great night out!